Young Professionals Of Parma Hosts Another Successful Pizza Bake Off!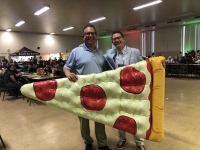 Local nonprofit Young Professionals of Parma (your favorite group of community advocates!) hosted the 2023 Pizza Bake Off, an annual tradition dating back to well before Covid. This year was a smashing success! Hundreds of Parma-area residents poured in to sample pizza from our city's premiere pizza restaurants. In addition to the pizza, there was live music, raffles and prizes, beer provided by Schnitz Ale Brewery, games, and a whole lot more.
Donatos Pizza took home the Judges' Best Sauce award, while Primoz won the Judges' Overall Best category. Not to be outdone, Napoleon's Pizza secured the People's Choice award (I know they earned my vote!). The three judges were Gabe Spiegel of Fox 8 News, the current Ward 1 city council representative Monica Wilson, Parma Chief of Police Joseph Bobak, and the Schnitz Ale Brewery owner Igor Djurin.
There was plenty for kids to do, too! The kids' game table was swarmed with activity all night, as kids won candy and prizes playing carnival-style games and competing in a city-wide coloring contest. The free photo booth doled out scores of prop-laden photos—fine family memories for the fridge or scrapbook.
The money raised at this event helps fund Young Professionals of Parma's events and other initiatives throughout the year—and they do more than you may realize. We host the annual Senior Yard Cleanup and Holiday Lights Contest. We're responsible for Parma's Halloween Trunk or Treat event. We also back a $500 scholarship to graduating seniors through the PTA's annual scholarship program. During Covid they helped run meals to the less fortunate and immune-compromised, and donate thousands annually in food and clothing to local food pantries and other nonprofits. If you value these initiatives and what they add to the community, what better way to support the organization than eating pizza?
This event captures everything to love about our community. If you missed it this year, I strongly encourage you to look our for the 2024 Pizza Bake Off. And add us on Facebook! We offer events all year round, from the family-oriented to fun social initiatives. And if you want to roll up your sleeves to contribute, the philanthropy committee is always looking for help! Help us celebrate the city of Parma as we move into the future.
Jeremy Jusek
Jeremy is the city of Parma's inaugural poet laureate and is the author of three books. He founded the Flamingo Writers Guild, a literature group aimed at connecting and promoting Parma area writers. He is the founder and host of Poetry Spotlight, the Ohio Poetry Association's podcast, as well as the West Side Poetry Workshop. He is also the treasurer for the local nonprofit Young Professionals of Parma. To learn more, please visit jeremyjusek.com.
Read More on News
Volume 15, Issue 5, Posted 11:01 AM, 05.01.2023